News/Events > Press > TFTLabs will be at the Industrie Lyon show on Start-up Village
Bron, France, March 2th, 2017.
TFTLabs will be at
the Industrie Lyon 2017 show
TFTLabs develops a secure and innovative platform for viewing 2D/3D models on all formats from an Internet browser or mobile/tablet.

After demonstrating its innovative technology, TFTLabs was selected to take part at theIndustrie Lyon 2017 show on Start-up Village,
the European leading fair where all innovative technologies converge, to be held from 4 to 7 April 2017 at Eurexpo Lyon, France.

--> Let's meet at theStart up Village, Hall 4 Stand 4B124 !!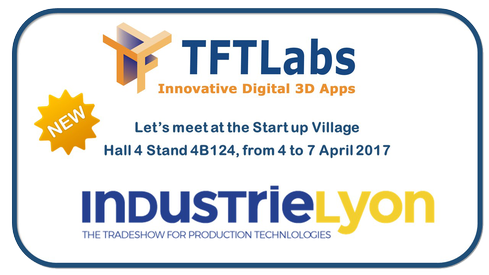 INDUSTRIE Lyon is the largest event of its kind in France and is ranked
among the top 5 in Europe, thanks to its wide range of products and its
visitor numbers. It is also an event that listens to the feedback from manufacturers and manages to retain its manageable and friendly format.

Click onthis link to access the show website.

+ 900 exhibitors and 22000 visitors are expected...
With TFTLabs technology, It becomes easy to add 2D/3D models to a website or client application to speed up its digital transition.
We are specialized in data encryption and decryption.
We develop also 3D converters to connect fields of mechanics, infrastructure (BIM) and augmented reality.
This technology has been entirely designed and developed by TFTLabs, which gives us total independence and flexibility in the customization of our applications.